Thank you to TLC Book Tours for the gifted copy.
Title: Attainable Sustainable
Author: Kris Bordessa
Release Date: March 24th, 2020
Publisher: National Geographic Society
Synopsis:
Packed with delicious recipes, natural remedies, gardening tips, homemaking ideas, crafts, and more, this indispensable lifestyle reference from the popular blogger behind Attainable Sustainable makes earth-friendly living fun, real, and easy.

Whether you live in a city, suburb, or the country, this essential guide for the backyard homesteader will help you achieve a homespun life–from starting your own garden and pickling the food you grow to pressing wildflowers, baking sourdough loaves, quilting, raising chickens, and creating your own natural cleaning supplies. In these beautifully illustrated pages, Kris Bordessa offers DIY lovers an indispensable home reference for sustainability in the 21st century, using tried-and-true advice, 50 enticing recipes, and step-by-step directions for creating fun, cost-efficient projects that will bring out your inner pioneer. Filled with 340 color photographs, this relatable, comprehensive book contains time honored-wisdom and modern know-how for getting back to basics in a beautiful, accessible package.
My Review:
Attainable Sustainable is a great book for those who enjoy being outside and in the garden. I love planting and growing vegetables and herbs in my garden and I learned so much.
The book is perfect for beginners. If you have never planted your own garden, you will learn so much. The great thing about this book is that it shows you pictures and details the best environment to have successful growth.
It also has so many other great ideas like DIY home supplies. It's so empowering to learn how much you can get done at your own house.
Rating: 🌟🌟🌟🌟
I give Attainable Sustainable 4 stars. It's a great DIY and an environmental book about planting, baking, and even making your own natural household supplies. The stunning pictures and detailed tips will prove to be beneficial on your sustainable journey.

Purchase Links
About Kris Bordessa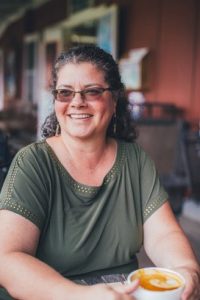 KRIS BORDESSA launched in the hit blog Attainable Sustainable in 2011 to create a community focused on more self-reliant living. She encourages readers to tackle one actionable step each day to embrace simpler living through a DIY lifestyle. Bordessa grew up on a small apple farm in Northern California and is a 2nd generation 4-H member. These days, she lives in Hawai'i with her family, strives for an abundant vegetable garden, and raises a thriving — and often humorous — chicken flock.
Find out more about Bordessa at her website, and follow her on Instagram, Facebook, Pinterest, and YouTube.
Tour Stops
Wednesday, March 25th: Instagram: @books_with_bethany
Thursday, March 26th: Instagram: @dropandgivemenerdy
Thursday, March 26th: Books, Cooks, Looks
Friday, March 27th: A Bookish Affair
Monday, March 30th: A Bookish Way of Life
Tuesday, March 31st: Living My Best Book Life
Wednesday, April 1st: The Upcycled Family
Friday, April 3rd: It's My Sustainable Life
Monday, April 6th: 5 Acres & A Dream
Tuesday, April 7th: Slow Living Homestead
Wednesday, April 8th: Little Frugal Homestead
TBD: Instagram: @thehahnestlife
TBD: Tuesday, March 24th: PNW Pixie
TBD: Friday, March 27th: The Inspired Prairie